Note:  As we seek to serve those who attend our events, your feedback on this short survey (which takes 3-5 minutes), will help us do just that. All responses are anonymous. Thank you.
Note: Recording of the current workshop (Practicing a Theatrical Hermeneutic) will be available here next week. PW: ccsn. Please do not share with others who did not attend this workshop.
Note: If you missed a previous workshop and you would like the recording, visit the online store for details on how to access these events.
Integratio Press Book Proposal Form. CCSN's imprint, Integratio Press, is now accepting book proposals. We welcome you to share you ideas with us. Pre-submission inquiries can be made to [email protected]
CCSN Summer 2022 Workshop and Conferences Page
Workshop Schedule
Session One (11:30 am – 12:30 pm EDT)
Presentation One (11:30 am – 12:00 pm)
Background to Paul's interest in hermeneutics and theatrical hermeneutics
Implications of "Technological Determinism"
Begin brief reminders of hermeneutical principles
Considering context
Participation and Q & A (12:00 pm – 12:30 pm)
Stories from participants about "public and private reading of scripture
When were you not bored?
Were the original audience members of Jesus' "Sermon on the Mount" ever distracted or bored?
What kept your interest in scripture as a child, adolescent, and adult?
Discuss the implications of "technological determinism" on audiences of various historical chapters
Break (12:30 pm – 12:40 pm)
Session Two (12:40 pm – 1:40 pm EDT)
Presentation Two (12:40 pm – 1:10 pm)
Theatrical hermeneutics includes the "science," but also takes seriously the "art" of interpretation
Principles that can be applied in our devotional reading of Scripture
Principles of textual analysis (especially involving "non-verbal" categories)
Identifying "persona, locus, psychological "vantage points"
Jesus's prayer in John 17
Finding "vehicles of cohesion" (and how they affect the dramatic element of a text
Finding unique rhythms in monologues and dialogue
A most dramatic minute of dialogue (John 8:48-58)
Discover "point of focus" and principle of "dramatic pinnacle"
Identifying "beats"
Participation and Q & A (1:10 pm – 1:40 pm)
John 17:10-16
Psalm 51:1-13
1 Corinthians 4: 8-13
Acts 2: 14-36
Break (1:40 pm – 1:50 pm )
Session Three (1:50 pm – 2:50 pm)
Presentation Three (1:50 pm – 2:20 pm)
Ponder the under investigated power of cultivated memory!
What is worth remembering?
contextualizing and situating the immediate circumstances
is there a confession that references a hierarchy of truths? (Shema)
Are there theoretical and narrative ordering structures that are central to living wisely, informatively in the immediate moment?
See the example of Jesus in Luke 14:7ff, drawing from the admonition found in Proverbs 25: 6,7
Class Participation and Q and A (2:20 pm – 2:50 pm)
First draft of Shema and how it affects "theatrical hermeneutic"
What's the first text you want to employ "theatrical hermeneutics" to?
 Is there a "reading" in your future?
 Are there community applications (Common Room possibilities)
Wrap-up (2:50 pm – 3:00 pm)
Handouts/Materials
Theatrical Hermeneutics Power Point 1
Overflow of the Heart. worksheet
Jesus Appears to Mary Magdalene
Little Exercises in Cultivating Your Own Life
Lead Presenter/Facilitator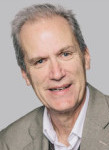 Paul Patton (PhD, Regent University) is Professor Emeritus of Communication and Theater at Spring Arbor University in Michigan. It was while pastoring at Trinity Church in Livonia, Michigan, that he founded Trinity House Theater in 1981. He is the author of over 30 produced stage plays, radio plays, and performance essays. He is contributing author to the books, Understanding Evangelical Media (IVP), Evangelical Christians and Popular Culture (Praeger), and Prophetic Critique and Popular Culture (Peter Lang), and co-author of Prophetically (In)Correct: A Christian Introduction to Media Criticism (Brazos Press), and the newly published, Everyday Sabbath: How to Lead Your Dance with Media and Technology in Mindful and Sacred Ways (Cascade Books). Contact Paul: [email protected]