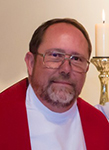 A Confused and Convicted Vicar
Tom Carmody, Ph.D., Professor of Communication Studies, Vanguard University
Five years ago, my wife and I took our first trip to England. As a newly ordained Anglican transitional deacon I was especially excited to visit the historic "Mother Church" of my denominational tribe. We took the train down from London and arrived in the late morning at Canterbury Cathedral.
To show my affinity with my tribe I wore my clericals and we happily waited in line to pay our entry fee. As we approached the front of the line I heard a very British voice call out "Vicar, Vicar." The title did not register with me until my wife touched me on the shoulder and said, "I think she is calling you." Confused, I responded to the women selling the entry tickets and asked her "May, I help you?" "Oh" she said, "You do not have to pay to enter Vicar." I tried to explain to her that I wasn't a vicar only a deacon, and I was also an American. She smiled, and said "You're one of us, so welcome." My "uniform" had identified me as a member of the club. They didn't know anything about me but I was instantly welcomed in.
I think about that experience often when I consider how I respond to others—especially the stranger, or those individuals I judge based on my first impression. They may not wear clericals or any uniform but they, like all of us, do share the imago dei, "the image of God" (Genesis 1:26-28). And therefore, I must ask myself if I truly identify them as "being one of us," and whether I truly welcome them in?