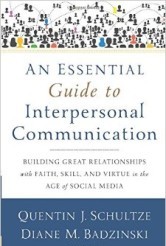 By Dr. Quentin Schultze and Dr. Diane Badzinksi
In an Essential Guide to Interpersonal Communication, Building Great Relationships with Faith, Skill, and Virtue in the Age of Social Media (due out at the end of August), leading Christian communication scholars Quentin Schultze and Diane Badzinski offer a solid Christian perspective on the topic, helping readers communicate with faith, skill, and virtue in their interpersonal relationships.
Designed as a companion to Schultze's successful An Essential Guide to Public Speaking, this inviting book provides biblical wisdom on critical areas of interpersonal communication: gratitude, listening, self-assessment, forgiveness, trust, encouragement, peace, and fidelity. Given the rapid rise and widespread use of social media, the book also integrates intriguing insights from the latest research on the influence of social media on interpersonal relationships. It includes engaging stories and numerous sidebars featuring practical lists, definitions, illustrations, and biblical insights.
To Request an exam copy: Online – www.bakeracademic.com/examcopy. Order Department, Baker Publishing Group, P.O. Box 6287, Grand Rapids, MI 49516-6287. Available in bookstores or by calling 800.877.2665.
Schultze and Badzinski will conduct a free live webinar on September 28, 8-9 pm EST, hosted by the CCSN. The webinar is titled: "Practicing and Teaching Interpersonal Communication within the Context of Christian Faith." Read more and register here.
Additionally, as of fall 2015, Schultze becomes the first to be appointed as CCSN Senior Fellow. Schultze remarked, "CCSN is emerging as the most important place for Christian scholars and practitioners of communication to connect, learn, and contribute. I'm honored to be part of it." Schultze earned a PhD from the Institute of Communications Research at the University of Illinois in 1978 and later joined the faculty at Calvin College (Grand Rapids, MI), where he served until 2015 as the Arthur H. DeKruyter Chair and a Professor of Communication Arts and Sciences. Read more about Dr. Schultze work in "spacious communication."
---
Enjoy recent books by CCSN members, webinar presenters, editorial board members, and special guests. Click on the book to read more and view amazon.com details. Or, visit the member publications area to learn about other CCSN publications.