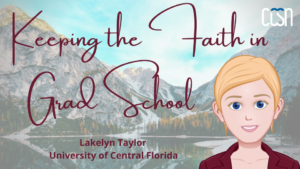 Keeping the Faith in Grad School
February entry: "Quitting and Keeping the Faith"
Column Description: Writing as a Christian who is a doctoral student at a public institution of higher learning, Lakelyn reflects on how graduate students can maintain their faith in graduate school when it seems hard to do. This column is not about how to "beat" the "other" side in debates about religion or secular ideas. It is not a column about winning arguments or converting people. Rather, it is about cultivating Christian mindsets to various struggles in graduate school and navigating what it means to be a Christian and a scholar.
Lakelyn Taylor, Graduate Student, University of Central Florida
February 2023 / January 2023 / August 2022 / June 2022 / January 2022 / October-November 2021 / September 2021
February 2023
If there's one thing I know about graduate school is that it tests you in hard, sometimes cruel ways. It tests your resolve. It tests your identity as a person. It tests your heart and your soul. It tests everything you thought you knew about the world. I know that sounds dramatic, but graduate school really does test us mentally, physically, emotionally, and spiritually. That's why, if you're a graduate student, you are well acquainted with thoughts of quitting.
There have been multiple times when I've sat ay my kitchen table, staring at an email or a blank Word doc and have asked myself, "Why am I doing this? What's the point? Nothing about this matters." Dark is the mind of an exhausted, stressed-out graduate student. I would be lying if I said I didn't think about walking away from my program more than once. And not because of any particular professor or class or assignment. It's just everything that graduate school is – something that's hard to fully describe to those who aren't in it or have never been in it.
So, it's natural to want to quit and to question your faith while contemplating such a move, especially if you feel like going to graduate school was the path God wanted for you (like I do). But here's a piece of advice I heard recently that I really resonate with:
Quit on a good day.
Let that sink in. It's easy to quit when everything is going wrong. When you got a bad grade on an assignment, when you got rejected for publication for the 50th time, when you missed a deadline, or when your life stressors seem to be crowding in. At those moments, it's easy to walk away from it all. It's easier to convince yourself that it's not worth it. However, try not to quit during those times.
Rather, quit when everything is going right. Quit when your manuscript has gotten accepted or you've achieved a huge milestone. Quit when you've received glowing feedback from your advisor or when all of life's pieces are falling into place. If everything is going well and you still feel like walking away, those are the times when quitting may actually be the right course of action.
And let me say this, there is no shame in leaving a graduate school program. If you really feel like God is leading you somewhere differently or if life is requiring you to take a step back, there is nothing wrong with that. Do what you need to do. Take a break for a little while. You can come back to graduate school in the future if the time or situation is right.
Just make sure you quit when the going is good so you know you're not just giving up when times are hard.
The author of Hebrews has a lot to say about endurance and quitting. The author writes:
Therefore, since we also have such a large cloud of witnesses surrounding us, let us set aside every weight and the sin that so easily ensnares us. Let us run with endurance the race that lies before us, keeping our eyes on Jesus, the source and perfecter of our faith, who for the joy that lay before Him endured a cross and despised the shame and has sat down at the right hand of God's throne. (Hebrews 12:1-2)
I feel like most people are probably familiar with these verses or have at least heard them before. However, I feel like the real crux of these verses comes a little bit later in the chapter. The author continues to talk about discipline and endurance, saying:
No discipline seems enjoyable at the time, but painful. Later on, however, it yields the fruit of peace and righteousness to those who have been trained by it. Therefore strengthen your tired hands and weakened knees, and make straight paths for your feet, so that what is lame may not be dislocated but healed instead. (Hebrews 12:11-13).
The author of Hebrews is basically saying the same thing to us about enduring hard times. Graduate school is a disciplinary training process that is certainly not the most enjoyable way to spend your time. In fact, it can be quite painful. But, if we endure the process, it'll yield fruit for us.
That being said, not everything was meant to be endured. So, my biggest piece of advice other than to quit on a good day is to pray and listen to the Lord. Sometimes that might require a time of fasting and prayer. I did that myself when I struggled to find a new place to live back in the fall of 2022. If you are considering stepping away from your graduate program, inquire of God if that's the right move. If you get the sense that He's asking you to stay in your program, then lean on this passage from Hebrews. If you get the sense that He's asking you to step away, then it would be disobedient to do anything else!
These are fine lines we have to walk – between enduring and quitting. Both are biblical responses and can be fruitful. So, when graduate school is testing you past your limits and making you question everything, rely on the Lord's guidance to show you the way.
And so we go….