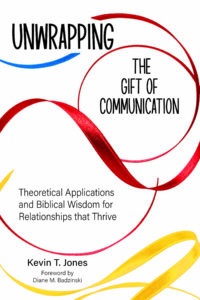 Unwrapping the Gift of Communication: Theoretical Applications and Biblical Wisdom for Relationships that Thrive
Available, January 2024
Author: Kevin T. Jones
Foreword: Diane M. Badzinski
ISBN paperback TBA
ISBN ebook TBA
LCCN TBA
Total Pages: 200
Price: $20.00
[
Return to Integratio Press
]
DESCRIPTION
Unwrapping the Gift of Communication provides readers with theoretically sound principles and guidelines for relational communication. God created human beings with the gift of language which allows us to communicate and build relationships. Unfortunately, this "gift" can often cause problems and strain relationships. Fortunately, God was aware of the challenges communication could create and we have been given Scripture to help us figure out how to unwrap the gift and use it in a positive way. This book takes several contemporary communication concepts and uses Scripture to illustrate what that theory means and how to apply it to your everyday communication. Each chapter includes application steps as well as discussion questions that can be used in a classroom setting, an adult small group, or by anyone looking to improve communication in their relationships.
ENDORSEMENTS
"Unwrapping the Gift is a gift offering biblically informed, research-based strategies for communicating in ways that truly serve others and honor our Lord Jesus Christ. I can't wait to use this gift in my courses! And I can't wait to hear how others—whether students, church study groups, or individual Christians—benefit from the wisdom in this book."
—Diane M. Badzinski, Chair, Professor of Communication, Colorado Christian University
 "As a longtime communication professor and practitioner, and now as a pastor in a large, nondenominational church, I find Kevin's work here to be extremely valuable, relevant, and practical. Many of the real-life stories and illustrations noted in this book seem to be replicated in my world on a regular basis in modern ministry life. More than ever, it seems that communication misunderstandings abound, but this text not only addresses many of those challenges, but also provides practical, time-tested wisdom from God's word."
—John Buckles, Group Life and Connection Pastor, Heritage Christian Church, Columbus, Ohio
 "As one who has taught communication in Christian institutions of higher education for close to 40 years, this book is an amazing blessing. It tells the story of the beautiful relationship between scriptural principles and the academic study of communication. Jones provides insightful observations and practical applications of the communication principles that all followers of Christ should seek to emulate so that we can better reflex the love of our Savior to a world that so desperately needs it."
—Tom Carmody, Vanguard University
 "Unwrapping the Gift provides readers with a biblical perspective on relationships and untangles some of the intricacies of human interaction. Using sound theory, personal anecdotes, and discussion-based questions, Kevin carefully considers the function and impact of messages and describes a Christ-centered approach to communication. An inspiring text with many great lessons!
—Charles Choi, Pepperdine University
 "Kevin does a nice job of taking some fairly intricate communication theories and making them relatable and understandable to non-academics. The personal examples are poignant and very nice ways of illustrating the theories. Kevin has also done a nice job of finding scriptural passages that make a connection between the theory and our faith walk."
—Konrad Hack, Concordia University
AUTHOR BIO
Kevin T. Jones (PhD, Louisiana State University) is Professor and Chair of the Department of Communication and Cinematic Arts at George Fox University. He has received numerous awards for teaching and for his scholarship. He has served as the president of several local and national professional organizations including the Religious Communication Association, the Northwest Communication Association, the Kentucky Communication Association, and the National Christian College Forensics Association. He is an avid cyclist and lives with his wife, Michelle, and their four children in Newberg, Oregon.