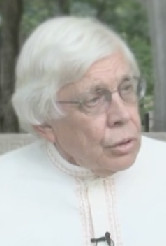 Producers, Stephanie Bennett and Don Piper, Palm Beach Atlantic University
Overview
Produced by Stephanie Bennett and Don Piper, Palm Beach Atlantic University, this 30-minute video includes an indepth interview with one of the world's leading communication scholars and ethicists. Dr. Christians discusses the inception of the field of mass communication, social responsibility, the changing field in a digital environment, and the influence of Jacques Ellul's work on his own integration of faith and learning in communication studies.
Christians, former director of the Institute of Communication Research and chair of the doctoral program at the University of Illinois, Urbana-Champaign, is best known for his significant contributions to the philosophy of technology, communication theory, and media ethics. He is also known for his commitment to and articulation of proto-norms that value all human life and relationships. Click here to read more about Dr. Christians' work and accomplishment.
"When I first met Cliff Christians," says co-producer Stephanie Bennett, "I was still a graduate student at Monmouth University. "After hearing him speak at the National Communication Association convention I approached him timidly to talk about Jacques Ellul. That was the beginning of it all. Clifford Christians was not only a scholar, but a gentleman. He was and continues to be a generous soul who gains joy and inspiration from helping so many others to find their way in the world of advanced scholarship."
Bennett concludes, "Clifford Christians has not only has accumulated countless publications, books, and awards, but he also seems he thrives on helping others find their way, the consummate professor and mentor."
This first 30-minute video is part one of a three-part set, and is available free to CCSN members through the Teaching tab area. Below is a 5-minute free preview of the full-length video. Non-members interested in viewing the full-length video may contact Stephanie Bennett ([email protected]) or Don Piper ([email protected]).
Social Responsibility Clip from CCSN on Vimeo.
---
Enjoy recent books by CCSN members, webinar presenters, editorial board members, and special guests. Click on the book to read more and view amazon.com details. Or, visit the member publications area to learn about other CCSN publications.