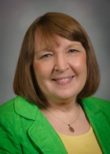 Joy in the Morning
Terri Lynn Cornwell, Ph.D.
Virginia University of Lynchburg
Scripture: Psalm 30:4-6 – New Revised Standard Version:4 Sing praises to the Lord, O you his faithful ones, and give thanks to his holy name. 5 For his anger is but for a moment; his favor is for a lifetime. Weeping may linger for the night, but joy comes with the morning.
Observation: A recent visit to a small African American church brought the hopeful words of Psalm 30 to my attention. The pastor focused on joy, even—and especially—in uncertain times.
Behind the pastor was a stained-glass window depicting a camp of Civil War soldiers on the banks of a river. The dedication on the window was in memory of Stonewall Jackson, the Civil War general. When Jackson was a professor at nearby Virginia Military Institute, he taught a Sunday School class for blacks, in opposition to laws forbidding the education of slaves. In the late 19th century, Rev. L. L. Downing, whose parents attended Jackson's Sunday School at Lexington Presbyterian Church, designed and had the window installed. Downing's parents taught him to be grateful for Jackson's act of courage.[1]
The congregation of that church has reverently maintained the window through many dark years of struggle, including a church fire, the Jim Crowe Era, and calls by Civil Rights activists to remove it. They've lived the words of Psalm 30 and continue to worship with a deep joy.
We have much to learn from our African American sisters and brothers, who, like the ancient people of Israel, experienced many years of struggle, but can still proclaim the joy of Psalm 30. As each of us continue in our own kind of isolation, may we look to the joy that we know will come in the morning.
Application: Begin a practice of reading one psalm a day. You will read through the entire Book of Psalms in less than a year and find many treasured verses that speak directly to you. Memorize at least one of them.
Prayer: Gracious God, continue to be with us as we journey through our darkest nights. Show us the joy you bring each morning and how we can share that joy with others. Amen.
NOTES
[1] Tonia Moxley, "Church window illuminates complexity of past," Roanoke Times, October 30, 2011,
https://www.roanoke.com/archive/church-window-illuminates-complexity-of-past/article_26b3949f-0e73-5632-89cc-587654ad0eb6.html