Thinking Chr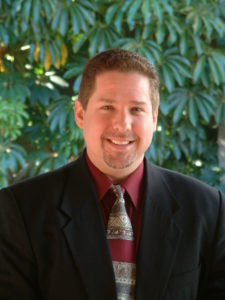 istianly about Communication Theory from the Heart of the Southwest
by Ben Stallings, CCSN Special Features Editor
Faculty Profile: Paul Creasman, Ph.D., Paul A. Creasman, Professor of Communication, Chair, Department of Communication and English, Arizona Christian University
Dr. Paul Creasman's path to being the Chair of the Department of Communications and English and a leading Professor of Communications at Arizona Christian University in Phoenix, Arizona, has been unique, with an almost decade-long career in radio between his Master's Degree in Media Research and his Ph.D. in Communications from Regent University.
Dr. Creasman grew up in a Christian household and was enthralled with the music industry, specifically, radio stations and how they operated. Aiming to work at a Christian radio station, he geared his undergraduate experience around gaining the skills necessary to be successful in the radio world. After he completed his undergraduate degree, he entered a Master's program and discovered a passion for Communications through the lens of an academic but was still determined to work with radio stations. Dr. Creasman then worked in the radio industry and was heavily involved in Christian music and Christian talk radio. He enjoyed success in his career until disillusionment with the radio industry's direction caused him to have a career crisis and pursue his passion for academics through entering the Ph.D. program in Communications at Regent University.
Dr. Creasman's interests in the field of Communications include the manner in which Christian audiences engage with non-Christian audiences as well as contemporary Christian music, but he says that the best way to describe him is as a generalist. A project he is currently working on is an examination of St. Athanasius' work, De Decretis, which he claims has fascinating advice on how to communicate about Christ that still resonates for Christians.
Teaching at three universities in the Council for Christian Colleges and Universities before his current position, Dr. Creasman is now the Chair of the Department of Communications and English and a Professor of Communications at Arizona Christian University. He always seeks to use his position to tie faith and Communications together, often asking his students, "What does this topic have to do with the Christian faith?" or, "How does the Christian faith affect how you look at this topic?" Dr. Creasman believes that Christianity affects every part of a Christian's life. His attitude towards integrating Christian ideology, theology, and tradition into everything done in his classes extends to topics that initially seem totally devoid of connection to Christianity.
Blogging about Communication Theory
Dr. Creasman expresses the same approach of integrating faith into the classroom in his upcoming guest blog series on the Christianity & Communication Studies Network's website. In his guest blog series, he will write about Communication Theory and significant Communication theories from a Christian point of view. Each blog entry will be based around a theme from the last chapter of Em Griffin's textbook notes from A First Look at Communication Theory, in which Griffin lists common themes that run through numerous different theories. These themes include self-image, narrative, and motivation. Dr. Creasman comments that "in the book, you get just a hint of the faith" but he hopes to "be explicit about the connections Christianity has to theory."
Appearing along with the likes of Dr. Paul Patton and Dr. Naaman Wood was a part of why Dr. Creasman was excited to partner with the CCSN. Another reason he chose to work with this site was the quality of previous blog series, which he says are "quite interesting and impressive." Dr. Creasman and CCSN hope that through his guest blog series, students and educators alike will deepen their understanding of Communication Theory and, furthermore, understand how faith is intertwined with Communication Theory.
We at CCSN are excited to partner with Dr. Creasman for his guest blog series. The starting date for the guest blog series is December 2016, accessible through CCSN's blog site: https://www.theccsn.com/category/blog
-Ben Stallings