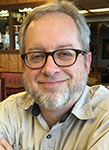 Presenters and Affiliation: Gerald J. Mast, Ph.D., (Professor of Communication), and J. Denny Weaver, Ph.D., (Professor Emeritus of Religion) Bluffton University.
Date and time: Thursday, November 19, 2020, 5-6 EST
Description: Working from an Anabaptist perspective on how the Word of God functions in the Bible and in the cosmos, Weaver and Mast will explore the implications of their hypothesis that God's Word is a nonviolent word, as outlined in their new book: Nonviolent Word: Anabaptism, the Bible, and the Grain of the Universe (Pickwick, 2020). Weaver will address the theological and biblical grounds for this proposal and Mast will suggest implications for how Christians teach and practice communication in a divided world that has not been well-served by pragmatic models of shared meaning and rhetorical advocacy.
Link to Recorded Webinar: https://vimeo.com/481776348
Learn more about the presenters
J. Denny Weaver and Gerald J. Mast, Nonviolent Word: Anabaptism, the Bible, and the Grain of the Universe,  https://wipfandstock.com/nonviolent-word.html
Gerald J. Mast, "Wisdom speaks: how Abigail saves David": https://mastgblog.wordpress.com/2019/10/28/wisdom-speaks-how-abigail-saves-david/
J. Denny Weaver, "On protesting": https://www.mennoniteusa.org/menno-snapshots/on-protesting/