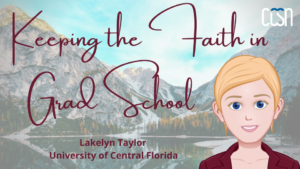 Column title: Keeping the Faith in Grad School
Column entry: Keeping the Faith through Radical Hospitality
Column Description: Writing as a Christian who is a doctoral student at a public institution of higher learning, Lakelyn reflects on how graduate students can maintain their faith in graduate school when it seems hard to do. This column is not about how to "beat" the "other" side in debates about religion or secular ideas. It is not a column about winning arguments or converting people. Rather, it is about cultivating Christian mindsets to various struggles in graduate school and navigating what it means to be a Christian and a scholar.
By Lakelyn Taylor
3rd-year Doctoral Student
University of Central Florida
January 2022 / October-November 2021 / September 2021
March 2022
I had a meeting once with a couple who volunteered with an on-campus ministry at my university. We talked over Thai food about their ministry and their vision for reaching out to students. One of the main things we talked about was how to effectively minister to graduate students. I told them that helping graduate students with the simplest, most basic needs can be the best way to touch our souls. For example, assisting us with every-day to-do list items like running errands and doing laundry or offering a home cooked meal can impact graduate students' mental, physical, emotional, and spiritual well-being.
The examples I mention above are all characteristics of what has been termed "radical hospitality." This term means sacrificially and unconditionally demonstrating God's love through hospitality. Rosaria Butterfield, author of the book The Gospel Comes with a House Key, asserts, "Those who live out radically ordinary hospitality see their homes not as theirs at all but as God's gift to use for the furtherance of his kingdom. They open doors; they seek out the underprivileged. They know that the gospel comes with a house key. They take biblical theology seriously, as well as Christian creeds and confessions and traditions" (p. 11). This type of hospitality is an invitation to break bread with those who disagree with us the most strongly or those who would otherwise sneers at us. Radical hospitality requires us to prioritize the value of humanity over the value of our pride and reputation. And it is into this space of radical hospitality that I actually call graduate students ourselves to enter as we practice keeping our faith in the academy.
As graduate students with faith backgrounds, we are situated in a unique time, place, and space. Our pastors and church leaders often cannot penetrate the innerworkings of the ivory tower like we can. They cannot be in all places at once, so they are not typically the ones going to our conferences or sitting around the grad student lounge. But we are. And we have an important opportunity to engage other graduate students through radical hospitality. The Apostle Paul exhorts us to do just that when he remarks, "Be devoted to one another in love. Honor one another above yourselves. Never be lacking in zeal, but keep your spiritual fervor, serving the Lord. Be joyful in hope, patient in affliction, faithful in prayer. Share with the Lord's people who are in need. Practice hospitality" (Romans 12:10-13, NIV).
Now, you may be thinking, "But, Lakelyn. You don't understand. I'm a poor graduate student. I don't have any resources to give anyone else." I do understand, though, the strain on graduate students' resources. And yet, there are ways we can demonstrate radical hospitality utilizing the resources we do have. We may just have to flex our creative muscles to figure out what that looks like.
For instance, I typically will send out a text to everyone in my cohort around midterms and finals weeks and will offer them my apartment. It's not much but it's a space. I tell my fellow graduate students to reach out to me if they need a hot meal, a different place to study, a free pot of coffee, a friendly face to turn to, or anything else in between. It's not much but it's what I can offer. I have to eat, too, so why not make a little more for a fellow graduate student who may be in need. I'm going to brew the pot of coffee anyway while I do work, so why not encourage others to partake in the space and caffeine. I have to do laundry myself, so why not let someone else throw their clothes in with mine?
Now, those actions may not seem radical in and of themselves. That's because they aren't really. But they mean the entire world to my fellow graduate students who just need to know there is someone out there willing to sit with them in their struggles. And it helps that I can empathize with them. I work within my means and within what I would be doing anyway to come alongside others. The radical part of these acts of hospitality is that they are not offered with strings attached. They are for everyone – no matter their background or identity expressions. They are offered without any expectation of reciprocation to the potential depletion of my own resources (i.e., food, detergent, time, energy, etc.). It's putting others before yourself and that can be very radical.
So, if you are a graduate student reading this, be encouraged. Try working within your own means and timelines to demonstrate God's love through radical hospitality to your fellow graduate students as a way to practice keeping your own faith. It's not always easy, pleasant, or stress-free, but it is worth it. If you are a non-graduate student reader, please extend some radical hospitality to the graduate students in your life. Even offering to pick something up for them while you are at the grocery store can make a difference and can lead to spiritual "renewal, restoration, and revival" (FBC Soperton, 2022). As Rosaria Butterfield implores us, "Let God use your home, apartment, dorm room, front yard, community gymnasium, or garden for the purpose of making strangers into neighbors and neighbors into family. Because that is the point—building the church and living like a family, the family of God" (p. 14).
Practicing radical hospitality is not a new idea nor is it one I can claim as an original thought. Engaging in this practice, though, on behalf of others is a critical way to integrate your faith into your everyday life and into the lives of those around you. It is through this practice that we may come to know God more intimately ourselves as we experience this side of His character.
And so we go….