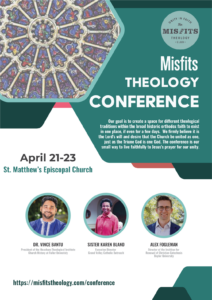 For the last few years, the Misfit Theology Club has hosted an annual ecumenical and theology conference. Our goal is to create a space for different theological traditions within the broad historic orthodox faith to exist in one place, if even for a few days. We seek to create a space where people can engage with theologies from the great Christian Traditions (Eastern traditions, Roman Catholic, Anglican, and Protestant) and come face to face with brothers and sisters from outside their traditions. We hope that through this space, Christians from various denominations and traditions can engage and befriend other Christians outside their theological silos. We firmly believe it is the Lord's will and desire that the Church be united as one in all its breadth and depth, just as the Triune God is one God. The conference is our small way to live faithfully to Jesus's prayer for our unity.
We look for speakers who are upstanding in Christian character and confess a broad theological orthodoxy. The Trinity, the Full Humanity and Full Deity of Jesus Christ Fully United, his Bodily Resurrection, and his Virgin Birth. What we call the meat of the Creeds.
The conference will be in Grand Junction, Colorado, April 21-23, and Saint Matthew's Episcopal Church will be hosting the conference and any out-of-towners coming to the conference.
This year's theme is holistic Christianity. It's intentionally a broad theme to give our speakers some room to choose topics on which to speak. This theme includes but is not necessarily limited to: giving attention to parts of Christianity that have historically been ignored, such as ancient African and Asian Christianity, women and their contribution to theological construction and faith, spiritual formation practices and mental health, the importance of ethnic diversity, and different vocations such as pastoral, missional, academic, theologian, and so forth.
To be inclusive and accessible to everyone, we have host homes in Grand Junction with families from St. Matthew's Episcopal. If the registration cost creates a barrier to attendance, please email Gabriel at [email protected].