Silence Civility and Sanity Hope for Humanity in a Digital Age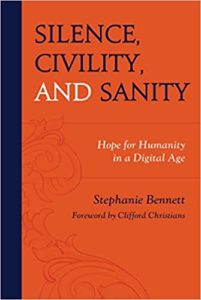 (The URL above is connected to the CCSN's amazon associates program).
For a limited time, you can purchase this book at a publisher's discount by visiting their website. The promotional code for a 30% discount is: LXFANDF30
Description from amazon: "Silence, Civility, and Sanity addresses the reclamation of civil communication and healthy public conversation at a time when people are very divided. Throughout this book, Stephanie Bennett focuses on the importance of silence to temper speech and embrace the art of listening to foster a more positive dialogue and civil society. Throughout this book, the author addresses the place of silence as a communicational good, intrapersonal silence in the history of contemplative prayer, the importance of attentive silence, the reflective use of silence, the ethical dimensions of silence, and the abuses of silence. This book also delves into the layers of technological advancement that obscure perception and act as noise that poses as silence, phantom silence. Bennett offers readers an alternative to the false binaries of culture-warring that plague our relationships, institutions, and public sphere. Scholars of communication, rhetoric, and media studies will find this book of particular interest."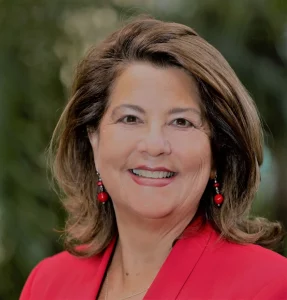 Stephanie Bennett (PhD, Regent University; M.A., Monmouth University) is Professor of Communication and Media Ecology at Palm Beach Atlantic University where for the last 17 years she has practiced an interdisciplinary approach to the classroom, integrating Faith, Culture, and Communication within a contemplative frame. Along with a fulltime appointment teaching courses in Interpersonal, Nonverbal, Civil Discourse and the Common Good and Communication Ethics, The Church in the Age of Entertainment and Music as Communication, Stephanie spent several years as University Fellow for Student Engagement and a decade as Associate Dean of the School of Communication and Media. Currently, she serves as Director of Wordship – a campus-wide initiative to advance the use of words as an act of worship and a way to nurture healing and reconciliation in the public square. Author of five books, including Within the Walls, a fictional trilogy about the future of community, her latest project is non-fiction and draws upon the dialectical relationship between speech and silence. Released in March 2022, Silence, Civility, and Sanity: Hope for Humanity in a Digital Age is published by Lexington Books/Rowman & Littlefield. Stephanie is committed to helping undergraduates navigate the relational, interpersonal, and ethical challenges in an evolving digital culture. She invites dialogue at [email protected].