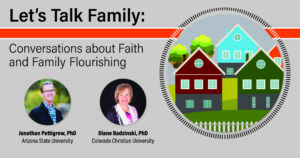 Column: Let's Talk Family: Conversations about Faith and Family Flourishing
Column entry: Can We Talk about It?
By Jonathan Pettigrew, PhD, Arizona State University; Diane Badzinski, PhD, Colorado Christian University
Column Description: Let's Talk Family: Conversations about Faith and Family Flourishing is a monthly column offering a space to consider research-based, biblically-sound practices for family communication. We all have families. And we all experience messy family communication from time to time. Our column focuses on what works and doesn't work for helping families be a little less messy and a lot more rewarding. Please join the conversation.
March 2023 | February 2023 | January 2023 
January 2023
Welcome to Let's Talk Family: Conversations about Faith and Family Flourishing.
Everyone has a family, so everyone is invited to join in "conversations" about building godly families that truly flourish. Will you join?
Let's begin by acknowledging the obvious: Families are messy. No family is perfect, and neither are the ways we communicate with each other. And, that's OK. At the same time, there are a lot of great theories, research, and Biblical wisdom about how to have happy (yet imperfect) families. "Let's Talk Family" is a place to dialog about what works and doesn't work in making families a little less messy and a lot more rewarding.
Let's make it clear: We do not have all the answers, but we have studied families and relationships for decades. It probably doesn't surprise you to hear that the ways families communicate is essential in building great families. In our monthly columns, we focus on communication strategies to help families flourish.
Let's have honest conversations on how to:
Love and connect with one another well
Handle conflict
Give and receive forgiveness
Develop resilience to life's inevitable stressors
Manage daily household tasks
Strengthen marriages, and
Train children
This series draws, in part, on material from our forthcoming book, Family Communication and the Christian Faith: An Introduction and Exploration (Integratio Press, 2023), due out next month (Follow the instructor's resource page for more details on release date). We share best practices that draw from theory and research. We know that no two families are alike, so a one-size-fits-all approach won't work. Yet, we do know that some strategies are more successful than others, and we encourage you to try them out and see what works in your family. We also draw from our experiences as daughters and sons, spouses, and parents. Here's one experience that helps remind us to stay humble.
My (Jonathan's) first university professor job was at the University of Tennessee. At that time, my five kids were all pretty young (from 1 to 7 years old). A friend had just finished his medical training and was newly "Dr. John." He and his wife were coming to enjoy the Smoky Mountains with us. To show respect and congratulate our friend, I told the kids to call him "Dr. John."
Unfortunately, they were a bit confused. They knew "John" but the younger ones did not quite understand why he was now "Dr. John." When I tried to explain that Dr. John was a medical doctor and that he didn't work at the university like I did, it just made things worse.
Our four-year old daughter finally decided to take charge and clarify things: "So, is he the kind of doctor that helps people, or…is he one like you?"
My wife and I died laughing. The kids—innocent as ever— remained oblivious to the subtle slam. Now, almost a decade later, my wife and kids don't let me go too long without recounting the story.
We know we're not the kind of doctors that put a cast on a broken arm, but we are the kind that understand what makes families break, bring together the best of what we know about family communication, and give prescriptions for how to move forward.
We see family dynamics a lot like jazz music: the same set of notes, chords, and basic rhythms can be woven together in countless ways, resulting in unique and beautiful melodies. You can apply the research-tested principles of what makes families work and improvise in creative and inspiring ways to create a family that truly flourishes.
Please join us as we continue having conversations about faith and family flourishing.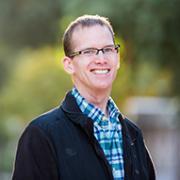 Jonathan Pettigrew, PhD, Arizona State University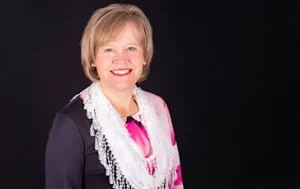 Diane Badzinski, PhD, Colorado Christian University