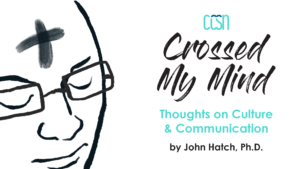 Crossed My Mind: Thoughts on Culture and Communication
By John Hatch, Ph.D.
Eastern University
Column Description: As Christians, we are called to have the mind of Christ. This goes against the grain of our social and cultural conditioning. We seek personal or political advancement; Christ seeks the lost and the least. We grasp for cultural ascendency; Christ descends to the cross of love. This column is dedicated to thinking about culture and communication under the sign of the cross.
January 2022 / December 2021 / October-November 2021
Pass the Peace  
"For to us a child is born, to us a son is given, and the government will be on his shoulders.
And he will be called Wonderful Counselor, Mighty God, Everlasting Father, Prince of Peace" (Isaiah 9:6, NIV).
"Blessed are the peacemakers, for they will be called children of God. Blessed are those who are persecuted because of righteousness, for theirs is the kingdom of heaven" (Matthew 5:9-10, NIV).
Year after year, Christmas and Epiphany elicit dreams of peace on earth. Year after year, the reality of international and domestic conflict cuts through our sentimentality. As Martin Luther King Jr. noted in a famous Christmas sermon, military geniuses across millennia have spread imperial conquest in the name of a "peaceful world order," yet true peace can only be achieved by peaceful ends.[1]
Christ was born in Judea under the Pax Romana—the "peace of Rome." To the nations it conquered, Rome brought law and order, good roads, and comparative tranquility, but at a terrible price: the crucifixion of anyone who dared to oppose Roman rule. Jewish religious leaders of Christ's day accommodated themselves to this peace, but their reliance on power politics left them insecure. They grew anxious when the miracles performed by an itinerant rabbi from Nazareth drew crowds and aroused hopes of a messianic king. Fearful of a Roman crackdown on Judea's religious freedom and nationhood, this council of priests and rabbis convinced the governor to crucify Jesus as an insurrectionist. In short, they sacrificed truth and justice for a hollow peace.
Much like the Jewish Sanhedrin, politicized Christians over the centuries have succumbed to the allure of peace through violent power. Today, many Americans have begun to entertain the idea of taking up arms to defend their religious liberty and preserve a nationalistic Christendom.
The peace inaugurated by Christ is radically different. It is grounded in God's nature, his being, rather than human power—rooted in the loving relationship among Father, Son, and Holy Spirit. Springing from the eternal Word, it forms a frame of mind and attitude of heart. It is the root and fountain of shalom—peace in the fullest biblical sense, integrally combining wholeness, faithfulness, justice, harmony, caring, tranquility.
Jesus embodied this peace. When battered by a storm at sea, Jesus slept in the back of the boat; when roused by his panicked disciples, he spoke to the waves: "Peace, be still" (Mark 4:39, NKJV). In his Sermon on the Mount, he called them to radical peace: "Love your enemies and pray for those who persecute you," and "Do not worry about your life" (Matthew 5:44, 6:25, NIV). On the eve of Christ's arrest, he reassured his disciples: "In this world you will have trouble. But take heart! I have overcome the world" (John 16:33b). True to his word, Jesus held his peace even when assailed by false accusations and unjust beatings during the trial that culminated in his crucifixion.
As the cross demonstrates, Christ's peace is not a rock-hewn fortress built to keep out danger; it is a living seed that "falls to the ground and dies" (John 12:24, NIV). In time, it sprouts and grows into a tree, multiplying seeds of peace. Drawing on this metaphor, Martin Luther King Jr. argued that only peaceful means can engender a truly peaceful end. The challenge, then, is to be the kind of seed from which peace will grow, no matter what life throws at us. This is easier said than done! We can only do it by dwelling on our connection to the Tree: "Abide in Me, and I in you. As the branch cannot bear fruit of itself, unless it abides in the vine, neither can you, unless you abide in Me" (John 15:4, NKJV).
In a world given to injustice, lies, and violence, this peaceful abiding isn't a passive affair. Like a tree buffeted by powerful winds, one must both stand firm and bend low. Arming himself with Scripture, Christ actively resisted satanic temptation toward anxiety, attention-seeking, and power-grabbing. Buttressed by prayer, he endured unjust arrest, slander, and torture. St. Peter exhorted Christ's followers to "arm" themselves "with the same attitude," being ready to suffer unjustly (1 Peter 4:1, NIV). St. Paul urges us to "put on the full armor of God" so as to stand against spiritual forces that hold societies in thrall (Ephesians 6:13, NIV). Yet even in battle-readiness, God's children are to wear the shoes of the gospel of peace (vs. 15).
On the eve of his death, Christ bequeathed divine peace to his followers. Upon his resurrection, he reaffirmed this gift and call: "Peace be with you! As the Father has sent me, I am sending you" (John 20:21, NIV). Christ did not send them out in strife or haste; he commanded them to stand watch, waiting for the promised Spirit so that they could then go forth as messengers of his peace. On the Day of Pentecost, as they were all together in prayerful expectancy, the Holy Spirit began filling them with the words and works of the gospel. Filled with quiet confidence, they and their message multiplied across nations and peoples, breaking down ethnic enmities amid tremendous difficulty and opposition.
In today's culture of ideological division, awash in derisive and aggressive rhetoric, the challenge is to stand firm, emulate Christ, and "be the peace we wish to see in the world." This means setting our minds on the One who anchors us, not our status in an ever-shifting world. It means speaking and acting from God's character, not from reaction to aggravations and injuries. As expressed in a prayer popularly attributed to St. Francis of Assisi, being "an instrument of God's peace" entails sowing love where there is hatred, forgiveness where there is offense, faith where there's doubt, hope amid despair, light amid darkness, and joy where there is sadness.[2]
In liturgical church traditions, congregants verbally "pass the peace" prior to communion. Extending a hand and saying "Peace be with you" is an orienting act, a seed, a promise of things to come. It's also practice for making peace in the world. Sadly, many churches are riddled with strife and grasping after power. We must look deeper for the true power of peacemaking: our mystical connection with Christ. In this season of Epiphany and the coming year, may we root down in him, stand firm, and pass his peace to those around us.
Notes
[1] Martin Luther King Jr., "A Christmas Sermon on Peace," The Trumpet of Conscience (Boston: Beacon Press, 2010), 67-80.
[2] The words of this anonymous prayer, which first appeared in 1912, can be found at "Peace Prayer of St. Francis." Loyola Press. https://www.loyolapress.com/catholic-resources/prayer/traditional-catholic-prayers/saints-prayers/peace-prayer-of-saint-francis/.