Location:  Azusa, CA
Category:  Faculty – Communications – Media and Communication Studies
Posted:  03/28/2017
Application Due:  Open Until Filled
Type:  Full Time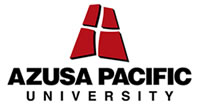 Azusa Pacific University is a comprehensive, evangelical, Christian university located 26 miles northeast of Los Angeles, California. A leader in the Council for Christian Colleges & Universities, APU is committed to excellence in higher education. Offering over 80 bachelor's, master's and doctoral programs on campus, online, and at seven regional centers across Southern California, APU has been recognized as one of U.S.News & World Report's Best Colleges for seven years running.
Position Title: Associate/Full Professor in Communication/Graduate Program Director Position
Tracking Number: F060
School/College: College of Liberal Arts and Sciences (CLAS)
Department: Communication Studies Location: Azusa campus
Description: The Azusa Pacific University Department of Communication Studies invites applications for a communication studies faculty member who will develop and implement a new master's degree in communication, and teach undergraduate and graduate courses in his/her area of specialization, across the communication, journalism, and public relations programs. Position begins Fall 2017. The department houses three majors – journalism, public relations, and communication studies – 12 full-time faculty, nearly 25 part-time/adjunct faculty, and approximately 400 major and minor undergraduates. The department engages a nationally-competitive forensics team, and a national honors society (Lambda Pi Eta). As part of the journalism program, the department supports a student newspaper (The Clause), magazine (Collide), a TV studio (Capture), and a radio station (KAPU). Additionally, the department plans to offer a M.A. in Communication Studies in the near future.
Specialization: Open specialization in communication studies (including interpersonal, organizational, media, cultural, rhetorical studies, strategic) and/or public relations
Responsibilities: This full-time faculty member will build and then serve as the founding director of a new graduate program in communication. By catalyzing the creation and implementation of the new graduate degree, the program director will ensure academic excellence, coordinate the curriculum and faculty assignments of the program, promote partnerships that support student learning and enrollment growth, and oversee graduate student academic advising. In addition, this faculty member will teach undergraduate and graduate courses across the department, which spans public relations, journalism, and communication studies.
In particular, the graduate program director will:
Advance the APU mission, vision, and strategic plan.
Recruit and retain excellent graduate students.
Ensure instruction is conducted with academic integrity and rigor through a robust program of assessment.
Ensure program compliance with accreditation standards.
Supervise assigned support staff.
Participate in faculty recruitment and evaluation.
Collaborate with key campus and industry partners.
Maintain ongoing relationships with communication industry corporations and professional organizations.
Coordinate graduate class scheduling.
Coordinate full-time and adjunct faculty teaching assignments in the graduate program.
Manage the budget of the graduate program.
Support student success and retention by working with other team members, faculty and advisors, while maintaining confidentiality of vital information.
Complete other duties as assigned by the Chair and/or Dean, including working at alternative teaching sites.
Other duties include advising students, participating on committee assignments at the department and university levels, carrying out a program of scholarly research, and participating in all faculty meetings. Commitment to the university's faith statement is required of all candidates.Level: Associate or Full Professor
Qualifications: Ph.D in Communication Studies, experience developing or leading a graduate program, and a commitment to teaching excellence in the liberal arts. Candidates must also adhere to Azusa Pacific University's Evangelical Christian tradition. Faculty members are required to sign a "Statement of Faith" (available at http://www.apu.edu/about/believe) and adhere to the policies outlined in the Faculty Handbook.
Experience: Prior experience teaching at the collegiate or university level required, experience teaching at the graduate level preferred.
Workload: 10-month contract. Responsible for teaching 24 units, 4 undergraduate or graduate courses per semester. Up to 12 units annually will be provided for graduate program director responsibilities.
Mental Demands:
Ability to integrate Christian values in all aspects.
Ability to engage in critical thinking and exercise independent judgment.
Ability to maintain confidentiality and manage confidential information.
Self starter, ability to communicate effectively in written and oral form.
Hire Date: Position begins Fall 2017. Review of applications will continue until position is filled.
Additional Information: Azusa Pacific University is a Christ-centered, multicultural community that values and seeks faculty and staff who are committed to diversity, work effectively with diverse populations, and engage others in ways that honor our rich cultural mosaic and biblical foundation. Azusa Pacific University does not discriminate on the basis of race, color, national origin, sex, age, disability, or status as a veteran in any of its policies, practices, or procedures. Women and minorities are encouraged to apply. Azusa Pacific University conducts background checks on all final candidates.
Application Procedure: To apply, visit http://www.apu.edu/cp/employment/. Review of applications will begin immediately, and the position will remain open until filled.
APPLICATION INFORMATION
Contact:
Office of Human Resources
Azusa Pacific University