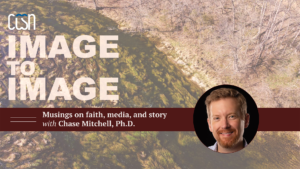 Column: Image to Image: Musings on Faith, Media, and Story
July entry: "The Last Corn Dance"
Column Description: Image to Image: Musings on Faith, Media, and Story is a monthly column that illuminates old and new ideas about media ecology from a Christian perspective. Dr. Mitchell will explore what it means to bear God's image and Christian witness in a mediated world, with a particular focus on the relationships between theology, media, and orthopraxy across different Christian traditions.
By Chase Mitchell, Ph.D.
Assistant Professor of Media and Communication, East Tennessee State University
July 2022 / June 2022 / April-May 2022 / January 2022 / November 2021 / October 2021 / September 2021
The Last Corn Dance
[Portuguese Translation Provided Below]
"These Ears of Corn, gathered and rubbed in my hands upon broken Sabbaths, I offer first to my Wife, and then to my other Friends."  -George MacDonald, Unspoken Sermons
A few weeks ago, my wife and I returned home from a mission trip with our church, First Presbyterian of Bristol, TN (FPC). FPC has partnered with a small congregation in Natal, Brazil, since 2001, the Independent Presbyterian Church of Felipe Camarão (IPIFC). Our church also helped build and continues to support the Bethel School, connected to IPIFC, which provides education and Biblical spiritual formation for children in kindergarten through 4th grade. The church and the school are in Natal's Felipe Camarão neighborhood, one of the poorer sections of the city that suffers from endemic poverty and gang violence.
This year's team traveled to Felipe Camarão with eager anticipation to renew ties and—in my wife and I's case—create new bonds. It was our first trip to Natal, and we were excited to meet and fellowship with the community. In the Gospel of John, Jesus tells His disciples, "I sent you to harvest where you didn't plant; others had already done the work, and now you will get to gather the harvest" (4:38). This passage certainly resonated with us. From the moment we landed and were met by the Felipe Camarão contingency, we felt a warmth and welcome that could only be born from years of shared experiences, prayer, and love. Others had planted seeds and now we were to enjoy the fruits of their labor.
What a beautiful nine days we spent with our Brazilian brothers and sisters in Christ at IPIFC and its sister congregation Cidade Nova. We shared God's Word, prayed together, enjoyed northeastern hospitality and food (the best in Brazil, we were assured!), gave and received gifts, shared our troubles and victories in Christ, played with the Bethel School children, visited homes to experience church members' lives, laughed at and learned from our cultural differences, sang, danced, and hugged, hugged, and hugged some more.
In an especially poignant moment, one of the Bethel children, Victoria, whose home we had visited the day before, came to school with a special gift for each of the team members: a chocolate and a hug. Such a heartfelt gesture by this shy little girl touched our hearts in ways that nothing we could ever do "for her" might accomplish. The Spirit moves in the childlike, and Christ's victory shone through in Victoria.
There were many other people, moments, and insights that God graced us with on the trip. For my wife and I, one of the most significant came toward the end of our stay. June in Brazil is marked by Festa Junina—originally a Catholic tradition that was introduced during the Portuguese colonialization—which celebrates the harvest and the saints. The emphasis of Festa Junina is on creating a large social gathering of dancing and eating. Everybody wears plaid, eats corn-based dishes, and dances the quadrilha.
One night, after the worship service, we were ushered into IPIFC's fellowship hall, fed a delicious corn custard called curau, and surrounded by joyful, dancing Brazilians who grabbed our hands and pulled us into the fray. (Some of that night is shown in the video we made to document to trip, beginning at the 7:38 mark.) I can't do justice to describing the experience except to say that it was the first time in my adult life that I've completely "reverted" to a childlike state. Sure, there've been other instances when I felt the twinge of nostalgia—as a taste or smell took me back—but that night I didn't merely remember what it felt like to be a child. I became a child. Something about the sounds, the place, the movement, the spirit of our trip and of that night, and most of all the people, it all came together to transfigure my perception in an utterly unique, holy way.
Later that night, on the bus ride back to the hotel, the team reveled in our collective ineptitude to master "the corn dance." Laughter was the only way we knew to respond, not because North American rhythm pales in comparison to South American—though it surely does!—but rather because laughter is a natural symptom of Spirit-filled joy. Our mirth that night testified to the sacramental nature of our union with our Brazilian brothers and sisters in Christ. We were and are, indeed, one body in Christ (Romans 12:5). But as all nights do, it ended.
Two days later, the morning of our final day in Natal, my wife and I tested positive for COVID. Although we knew it was the responsible thing to skip the last night's worship service, which we did, we were crushed that we wouldn't be able to say goodbye to our new family in person. We had gifts to give, hugs to get, farewells to say. For some reason, this hit me especially (even unreasonably) hard. I felt like God had shared these new people in ways that refreshed and enlivened my spirit, and now I was to be deprived of the trip's consummation. I just wanted to be joyful, Lord, like before!
What I failed to see, in the moment, was the meaning behind the apparent letdown. Once we were home, and with prayer, I remembered that God's gifts in Christ will not be fully consummated until He returns. In the interim, in the already-not-yet period that theologians like to talk about, we will always be disappointed if we set our hopes on ultimate fulfillment in the here-and-now. The correct response, rather, is to receive the good that God does give, in all its seeming imperfections, in the humble acknowledgement that even joy is eschatological. If we know the world for what it is—a fallen-yet-redeemed-yet-still-broken place—our joy is not then "ruined" by the presence of sin, death, and the world as it is. Instead, joy and rejoicing are evidence of Christ's victory. Where we find them, they are to be treasured, and their loss is to be lamented. I was right to be sad that we didn't get to say goodbye. And yet, even in sadness, God was working on my heart.
As I examined myself and considered why I had such extraordinarily strong FOMO ("fear of missing out"), I realized that its root was pride. In thinking that I could somehow control the joy, conjure it if only, I put limits on God's goodness and placed my hopes in temporal things. I wanted to manage my happiness, to corral my sadness, because I forgot that in Christ all farewells are illusory. Goodbyes are painful, yes, and in a perhaps paradoxical way even more so if we don't get to say them. But I now discern grace in having to miss the final night's worship: God used it to remind me that as His people, our shared consummation, our end, is not to be found in this world.
Even our letdowns point to God's love. If we learn to abide in His give-and-take, we come to see that even His "takes" lift and sustain us unto our perfect end—which will never end—the corn dance that lasts forever. Until then, we plant, we harvest, and we endure the long night of broken sabbaths. Christ's Spirit guides us, gives us joy, and feeds us these ears of corn.
---
Portuguese Translation
A Última Dança do Milho
por Chase Mitchell
"Estas Espigas de Milho recolhidas e esfregadas nas minhas mãos em sabonetes partidos, ofereço primeiro à minha Esposa, e depois aos meus outros Amigos."  -George MacDonald, Sermões não ditos
Há algumas semanas, a minha esposa e eu regressámos de uma viagem Missionária com a nossa igreja, Primeira Presbiteriana de Bristol, TN (FPC). A FPC desde 2001 associou-se a uma pequena congregação em Natal/RN, Brasil, a Igreja Presbiteriana Independente de Felipe Camarão. A nossa igreja também ajudou a construir, e continua a apoiar a Escola Bethel, ligada a IPIFC, que fornece educação e formação espiritual bíblica para crianças no jardim-de-infância até à 4ª Série. A igreja e a escola encontram-se no bairro de Felipe Camarão em Natal/RN, um dos bairros mais pobres da cidade que sofre de pobreza endémica e violência de bandidos.
A equipe deste ano viajou para Felipe Camarão com grande expectativa de renovar laços e – no caso da minha mulher e Eu, – criar novos laços. Foi a nossa primeira viagem a Natal/RN, e estávamos bastante entusiasmados por nos encontrarmos em companheirismo com a comunidade. No Evangelho de João, Jesus diz aos seus discípulos: "Enviei-vos para a colheita onde não plantastes; outros já tinham feito o trabalho, e agora ireis colher a colheita" (4:38). Esta passagem teve certamente ressonância entre nós. Desde o momento em que aterrissamos e fomos recebidos pela equipe de irmão da Igreja de Felipe Camarão, sentimos um calor e um acolhimento que só podia nascer de anos de experiências compartilhadas, de oração e de amor. Outros tinham plantado sementes e agora devíamos apreciar os frutos do seu trabalho.
Que belos nove dias passamos com os nossos irmãos e irmãs brasileiros em Cristo na IPIFC e membros da sua congregação irmã no Bairro de Cidade Nova. Partilhamos a Palavra de Deus, oramos juntos, desfrutamos da hospitalidade e comida do nordeste (o melhor do Brasil, estavamos certos disso!), demos e recebemos presentes, partilhamos os nossos problemas e vitórias em Cristo, brincamos com as crianças da Escola Bethel, visitamos casas para experimentar a vida dos alunos da escola, rimos e aprendemos com as nossas diferenças culturais, cantamos, dançamos e abraçamos, abraçamos e abraçamos mais alguns.
Num momento especialmente tocante, uma das crianças do Bethel, Victoria, cuja casa visitamos no dia anterior, veio à escola com um presente especial para cada um dos membros da equipe: um chocolate e um abraço. Um gesto tão simples por parte desta menina tímida que tocou os nossos corações de forma que nada que pudessemos fazer "por ela" poderia realizar. O Espírito move-se como uma criança, e a glória de Cristo brilhou em Vitória.
Havia muitas outras pessoas, momentos e percepções com que Deus nos agraciou na viagem. Para mim e para a minha esposa, um dos mais significativos chegou perto do fim da nossa estadia. Junho no Brasil é marcado pela Festa Junina – uma tradição católica que foi introduzida durante a colonização portuguesa – que celebra a colheita e os santos. A ênfase da Festa Junina está na criação de um grande encontro social de dança e alimentação. Todos vestem xadrez, comem pratos à base de milho, e dançam a quadrilha.
Uma noite, após o culto de adoração, fomos conduzidos à sala de convívio da IPIFC, alimentados com um delicioso creme de milho chamado Canjica, e rodeados por brasileiros dançantes e alegres que agarraram as nossas mãos e nos puxaram para a dança. Não posso fazer justiça à descrição da experiência, exceto dizer que foi a primeira vez na minha vida adulta que "voltei" completamente a um estado infantil. Claro, houve outros casos em que senti o toque da nostalgia – como um gosto ou cheiro que me levou de volta – mas nessa noite não me lembrei apenas como era ser uma criança. Tornei-me uma criança. Algo sobre os sons, o lugar, o movimento, o espírito da nossa viagem e daquela noite, e acima de tudo as pessoas, tudo se uniu para transfigurar a minha percepção de uma forma absolutamente única e santa.
Mais tarde nessa noite, de volta ao hotel, a equipe revelou-se na nossa inépcia coletiva para dominar "a dança do milho". O riso era a única forma que conhecíamos para responder, não porque o ritmo norte-americano se palha em comparação com o sul-americano – embora certamente o faça!- mas sim porque o riso é um sintoma natural de alegria cheia de Espírito. A nossa alegria naquela noite testemunhou a natureza sacramental da nossa união com os nossos irmãos e irmãs brasileiros em Cristo. Éramos e somos, de fato, um só corpo em Cristo (Romanos 12:5). Mas, como todas as noites, acabou.
Dois dias depois, na manhã do nosso último dia em Natal, a minha mulher e eu demos positivo para a COVID. Embora soubéssemos que era o responsável de nós faltarmos o culto da última noite, o que fizemos, ficámos esmagados por não podermos dizer adeus pessoalmente à nossa nova família. Tínhamos presentes para dar, abraços para receber, despedidas para dizer. Por alguma razão, isto afetou-me especialmente (mesmo irrazoavelmente). Senti que Deus tinha partilhado estas novas pessoas de formas que refrescaram e animaram o meu espírito, e agora eu ia ser privado da consumação da viagem. Eu só queria ser alegre Senhor, como antes!
O que não consegui ver no momento, foi o significado por detrás da aparente desilusão. Uma vez em casa, e com a oração, lembrei-me que os dons de Deus em Cristo não serão totalmente consumados até que Ele Volte. Entretanto, no período já não muito antigo de que os teólogos gostam de falar, ficaremos sempre desapontados se depositarmos as nossas esperanças no cumprimento final aqui e agora. A resposta correta, antes, é receber o bem que Deus dá, em todas as suas aparentes imperfeições, no humilde reconhecimento de que até a alegria é escatológica. Se conhecermos o mundo pelo que ele é – um lugar caído, ainda hoje redimido, partido – a nossa alegria não é então "arruinada" pela presença do pecado, da morte, e do mundo tal como ele é. Pelo contrário, a alegria e o regozijo são provas da vitória de Cristo. Onde as encontramos, elas devem ser valorizadas, e a sua perda deve ser lamentada. Tive razão em estar triste por não ter nos despedidos. E no entanto, mesmo na tristeza, Deus estava a trabalhar no meu coração.
Enquanto me examinava percebi que tinha um medo tão extraordinariamente forte ("medo de perder"), e vi que a sua raiz era o orgulho. Ao pensar que podia de alguma forma controlar a alegria, conjurá-la, se pelo menos, colocasse limites à bondade de Deus e colocasse as minhas esperanças nas coisas temporais. Queria gerir a minha felicidade, encurralar a minha tristeza, porque me esqueci que em Cristo todas as despedidas são ilusórias. As despedidas são dolorosas, sim, e de uma forma talvez ainda mais paradoxal se não as pudermos dizer. Mas agora percebo a graça de ter de faltar ao culto da última noite: Deus usou-a para me lembrar que como Seu povo, a nossa consumação partilhada, o nosso fim, não se encontra neste mundo.
Mesmo os nossos desapontamentos apontam para o amor de Deus. Se aprendermos a permanecer no Seu "dar e receber", vimos a ver que até o Seu "receber" nos eleva e nos sustenta até ao nosso fim perfeito – que nunca acabará – a dança do milho que dura para sempre. Até lá, nós plantamos, colhemos, e suportamos a longa noite de sábados quebrados. O Espírito de Cristo guia-nos, dá-nos alegria, e alimenta-nos com estas espigas de milho.