In June (2015), CCSN co-sponsored its first face-to-face conference hosted by Quentin Schultze and Calvin College. Spring Arbor University's online MA in Communication (http://online.arbor.edu/programs/master-of-arts-in-communication/) joined as a co-sponsor.
The conference, titled "A Dialogical Mini-Conference on "Servant Communication," joined colleagues from more than a dozen institutions, public and private, on the general theme of "Servant Communication." This un-conference provided a venue for a number of topics dealing with Christianity and Communication studies.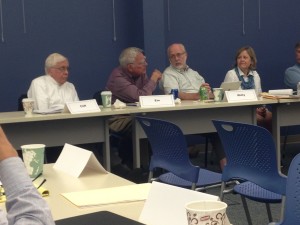 A special treat included a dialogical panel with Cliff Christians (University of Illinois) and Em Griffin (Wheaton College) who shared what they have learned about the study and practice of communication over the years. We called it networking with sages.
More face-to-face (and virtual) conferences are in the works. We are currently planning a summer 2016 conference at Spring Arbor University on faith and communication. More details to follow on this page. Check back to this page periodically for updates. (Pictured left to right: Clifford G. Christians; Em Griffin; Wally Metts; Diane Badzinski-Proctor).
The plan is to host or sponsor a yearly conference in Christianity and communication studies. Check back here periodically for updates, or subscribe to free weekly updates.