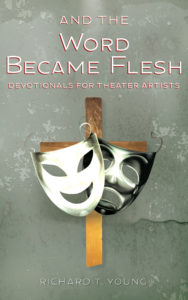 Welcome to the page for And the Word Became Flesh: Devotionals for Theater Artists, by Richard T. Young (Integratio Press, 2023), This book is a publication of Trinity House, a division of Integratio Press. Trinity House publishes works in the creative and performing arts. This book is available in paperback and ebook formats on Amazon, Barnes and Nobles, and other major retailers and wholesalers.
[Amazon Associates Link]
Book description
God's claim on the life of a Christian theater artist is no different than God's claim on the life of a preacher, teacher, plumber, carpenter, or bank clerk. But the call to the world of theater can be a dilemma for those who follow Christ. The siren song of theater is alluring and powerful. To survive in and influence the theater world, it takes a Christian whose heart, mind, and soul are well focused on the Lord of the Cosmos. This slim volume is an effort to encourage those who want to celebrate Christ in and through the world of theater. The author spent his adult life creating theater via amateur and professional settings. A follower of Christ from an early age, he has found many arenas where working from a Christian worldview and pursuing theater arts blended well and, at times, bumped up against each other somewhat harshly. This collection of devotionals tells those stories.
Endorsements
"Every theater artist who follows Jesus will want this book of stories and wisdom in his or her library, but bystanders of either theater or the Christian faith will also treasure getting this peek behind the scenes."—Jeff Barker, Co-author of Performing the Plays of the Bible
"Young's scriptural applications and prayers will graciously provoke intrapersonal, interpersonal, and group discussions. This is clearly a jewel of an offering for deepening our understanding of how faith informs art and artistic processes!"—Paul D. Patton, Professor Emeritus of Communication and Theater, Spring Arbor University
"Like Jesus himself, Richard does what the best theologians should do: he lets the stories of our specific human endeavors identify their own spiritual truths. He deftly mines theological insights from these lived moments, prompting second and third glances at both unique and everyday encounters in the theater."—Barrett Hileman, Associate Professor of Theater, Ambrose University, Calgary, AB
"If you are a professional or part-time amateur in theater, you will find this book both helpful and precious. Read it. Meditate on the prayers and Scriptures given at the end of each devotional. Your life will be richer for it."—Charlie Jones, Founder of Peculiar People Touring Theater Company and President of Joyful Community
Author Bio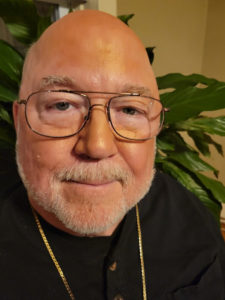 Richard T. Young found theater in high school when he followed a cute girl into a drama club meeting (he fell in love, and not just with her). Richard earned his BA in Theater from California State Univer­sity, Hayward, his MA in Theater from California State University, Fresno, and his MFA in Directing from Lindenwood University. Professor Young has taught theater at Greenville University, Black­burn College, and Bethel University in Indiana. He was a member of and director for Lamb's Players Theater in California. He was co-founder and artistic director of the Summer Repertory Theater at Blackburn College. His plays have been published by I. E. Clark, Dramatic Publishing, and Eldridge Publishing. His play Bread for Their Mouths, Fire for Their Souls won the 2017 Searchlight Theater playwriting competition.