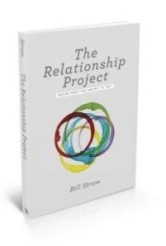 By Bill Strom, Ph.D.
Overview
The Relationship Project challenges the popular belief that our goal in relationships is personal happiness, and that effective communication skills are the means to that happiness. These myths overlook God's deeper calling to be redeemed people, in tune to his covenantal way, and relating from a morally virtuous center. The Relationship Project weds research in human communication and social psychology with biblical principles and people's stories to show the link between our moral make up and the quality of our relationships. The Relationship Project fills a need in a crowded field of self-help books that are big on advice and anecdote, but slim on research and theory. The Relationship Project echoes an evangelical ethos of personal responsibility and Christ-centered virtue in close human relationships. Read more on amazon.com.
Endorsers include Quentin Schultze (Calvin), Em Griffin (Wheaton), Jennifer Ripley (Regent), Craig Johnson (George Fox), Annalee Ward (Dubuque), Paul Soukup (Santa Clara), and Robert Woods (Spring Arbor) among others.
Listen to Dr. Strom's recorded presentation from December 2014 related to his new book. See the CCSN Recorded Webinar area for more details.
Table of Contents
Preface
Introduction
1. Relationships: From Contract to Commitment to Covenant
2. From Personal Virtues to Virtuous Relationships
3. Self-Control as Master and Commander
4. Humility as Rich Earth
5. Work as Career and Relationships
6. Committed Faithfulness as More than Good Intentions
7. Wisdom as Jesus' Call to Abundant Relationships
Notes (approx. 30 sources per chapter)
---
Enjoy recent books by CCSN members, webinar presenters, editorial board members, and special guests. Click on the book to read more and view amazon.com details. Or, visit the member publications area to learn about other CCSN publications.