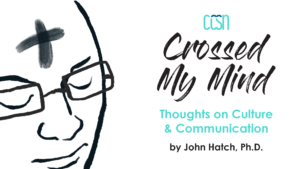 Column title: Crossed My Mind: Thoughts on Culture and Communication

Column entry: "Lay Down Your Burdens, Look to the Star"
By John Hatch, Ph.D.
Eastern University (retired)
CCSN Senior Fellow
Column Description: As Christians, we are called to have the mind of Christ. This goes against the grain of our social and cultural conditioning. We seek personal or political advancement; Christ seeks the lost and the least. We grasp for cultural ascendency; Christ descends to the cross of love. This column is dedicated to thinking about culture and communication under the sign of the cross.
March 2023 / February 2023 / January 2023 / December 2022 / November(2) 2022 / November 2022 / October 2022 / August-September 2022 / June-July 2022 / January 2022 / December 2021 / October-November 2021

March 2023
Lay Down Your Burdens, Look to the Star
"It is easy to be heavy: hard to be light. Satan fell by force of gravity." ~ G. K. Chesterton[i]
"Angels can fly because they can take themselves lightly." ~ G. K. Chesterton[ii]
"Therefore, since we are surrounded by such a great cloud of witnesses, let us cast aside everything that weighs us down and the sin that so easily entangles. And let us run with perseverance the race marked out for us, fixing our eyes on Jesus, the pioneer and perfecter of faith." ~ Hebrews 12:1-2a, NIV
In my last column, I talked about Ash Wednesday and the lightness of childhood. Here, I consider the weight we are invited to shed and the burdens we are called to cast aside, at Lent and beyond.
The theme of heaviness is featured in the Psalms, as well as liturgical confessions of the church. Here is an example from Psalm 32:
When I kept silent,
My bones wasted away
Through my groaning all day long.
For day and night Your hand was heavy upon me . . .
Then I acknowledged my sin to you
And did not cover up my iniquity.
I said, "I will confess my transgressions to the LORD,"
And you forgave the guilt of my sin.[iii]
Many churches make collective confession every Sunday. One of these litanies says, "Gracious God, our sins are too heavy to carry, too real to hide, and too deep to undo. Forgive what our lips tremble to name, what our hearts can no longer bear, and what has become for us a consuming fire of judgment."[iv]
It is good to face our sin and feel its weight—the harm it does to individuals, interpersonal relationships, the Church, society, and even our own souls. We should feel compelled within to avoid such wounding. However, if we're not careful, we can obsess over sin and compulsively erect a hierarchy of holiness or a ladder of righteousness. This kind of piety is futile, for it still builds upon the shaky ground of our fear, envy, and pride. In our insecurity, we seek relief by comparing ourselves to those further down the ladder. We then appoint ourselves as their moral teachers and disciplinarians.
Some of us heap judgment on those who are guilty of personal failings with regard to bodily desires or addictions. Others join the "cancel culture" mob, verbally stoning those who commit real or perceived infractions against social groups. Either way, Jesus aptly described the impact: "They tie up heavy, cumbersome loads and put them on other people's shoulders, but they themselves are not willing to lift a finger to move them" (Matthew 23:4).
In another variation of this pattern, we mentally split off part of ourselves, berate it as the "bad self," and beat it down in hopes that this will raise up our "good self" into God's good graces.
Thankfully, Jesus offers release from these burdens of self-righteous striving: "Come to me, all you who are weary and burdened, and I will give you rest. Take my yoke upon you and learn from me, for I am gentle and humble in heart, and you will find rest for your souls. For my yoke is easy and my burden is light" (Matthew 11:28-30).
In light of Christ's invitation, Lent serves as a reminder to seriously lighten up. In our pursuit of Him, we need the kind of discipline that generates transformation from the inside out. In other words, we need discipleship: a relationship with Christ, not a system of rules or a scale of holiness. We're invited to yoke ourselves to the Righteous One, "full of grace and truth." He is secure, unhurried, and unworried about earning approval. He's unafraid to show his emotions, whether tears or joy, anger or laughter. Jesus hangs out with unwashed sinners, calls for glasses to be put on the table, and pours out divine grace, so that we may become like Him.
While Lent invites us to lighten up, it also looks ahead to Holy Week, reminding us that this banquet of grace cost Christ his life. As the author of Hebrews says, "For the joy set before him he endured the cross, scorning its shame, and sat down at the right hand of the throne of God" (Hebrews 12:2b, NIV). Jesus has called his followers to do likewise: "take up [your] cross, and follow me" (Mark 8:34, NIV). It is only in being yoked to Him, letting him pull the weight, that we can follow his example.
Jesus partied with the sinners, but he's not all fun and games. He offered them the wine of Life, but they had to empty their glasses so he could fill them up. The race he ran wasn't a sprint; it was a grueling marathon. He wasn't competing for respect or acclaim; he was laboring to get God's gracious forgiveness and glorious love through to thick-headed people like us. His prize—the power to redeem the unredeemable and make them members of the family—lay just on the other side of the cross.
With his eye on that prize, Christ shrugged off the dishonor and pain and shame that were thrown at him by the jealous powers of the day. From the tomb, he laughed off death itself and emerged triumphant. With a levity greater than the lightness of the angels, he "ascended into heaven, and is seated at the right hand of the Father."
Jesus—the Morning Star—calls us to follow him. So, this Lent, instead of trying to haul the weight of our pious self-importance up a ladder leading nowhere (except "above" others), let's look up to Him, cast off our burdens, and hitch our wagon to that Star.
Notes
[i] Chesterton, Orthodoxy, p. 121.
[ii] G. K. Chesterton, Orthodoxy: The Romance of Faith (New York: Doubleday, 1959), p. 120.
[iii] Psalm 32:3-5, NIV.
[iv] Book of Common Worship (Louisville: Westminster John Knox, 1993), p. 88.